New Year's Eve 2018 Concert Featuring Jerry Lee Lewis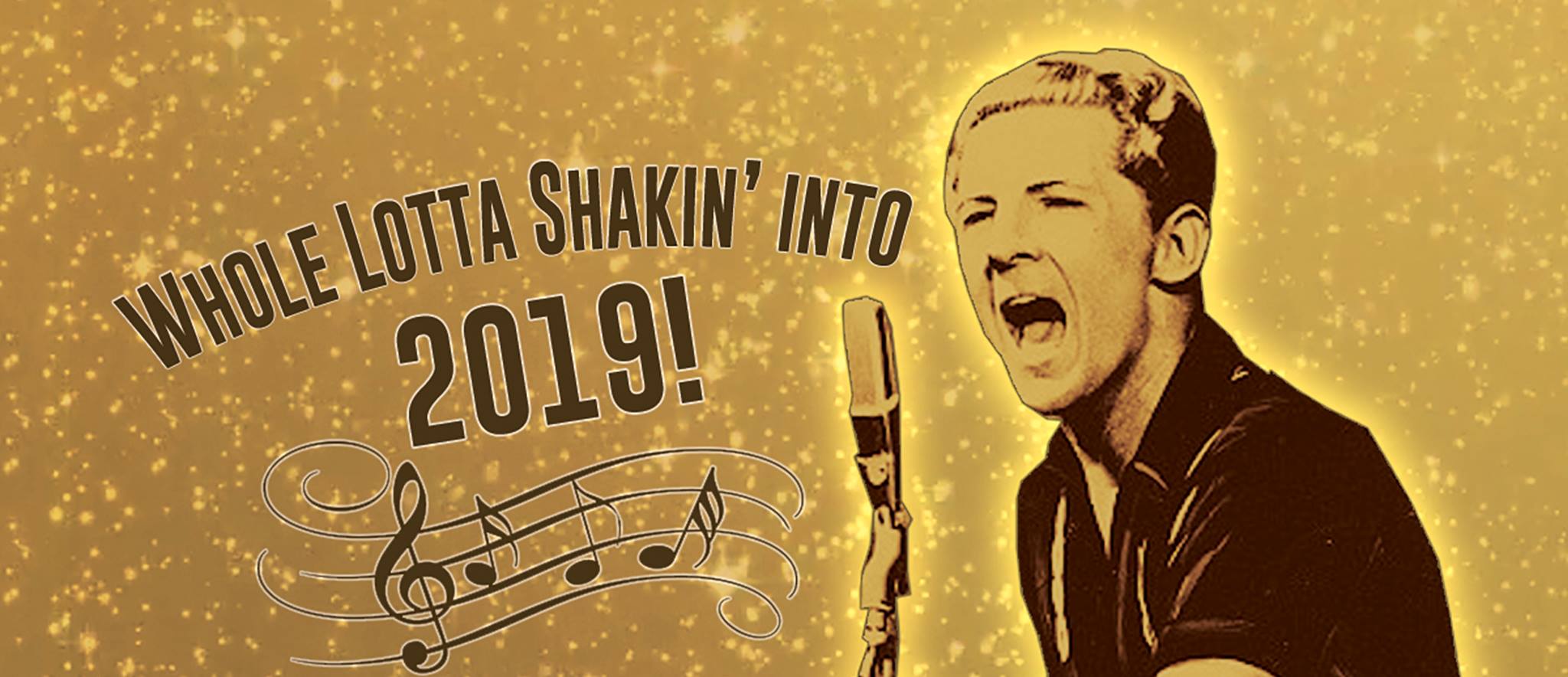 ---
Presale tickets for fans ON SALE NOW through 8:00am CST on November 20! Don't miss your chance to see Jerry Lee Lewis perform live in concert! Tickets are going fast! Get yours today!
Jerry Lee Lewis' Café & Honky Tonk is pleased to announce that Jerry Lee Lewis' will play a New Year's Eve Concert at the one and only Jerry Lee Lewis Café & Honky Tonk, located at 310 Beale Street, on December 31, 2018!
Where
310 Beale Street, Memphis, TN 38103
When
Sunday, December 31 · Seating begins at 7:00pm
Description
Ring in the New Year with Jerry Lee Lewis! Click the "Purchase Tickets" button to puchase one or more tickets online.
Each ticket includes event admittance, New Year's Eve hat and party favors!
Jerry Lee Lewis' 2018 New Year's Eve Concert
8:00pm Jacob Tolliver
10:00pm Linda Gail Lewis
11:00pm Jerry Lee Lewis
12:30am TBD
If you would like to send Jerry Lee Lewis a letter, card, or other fan mail, please send to the following address:
Jerry Lee Lewis Cafe & Honky Tonk
Attn: Jerry Lee Lewis III
310 Beale St
Memphis, TN 38103
---
Make Rock 'n' Roll and Country music history by sponsoring the New Year's Eve 2018 Concert Featuring Jerry Lee Lewis! Enjoy exclusive sponsor benefits and help promote the music and legacy of the greatest Rock 'n' Roll and Country musician of ALL TIME!
Learn more about Sponsor Opportunities.
---
Ticket Information
With only 125 ticketed seats available, the One & Only Jerry Lee Lewis' Cafe & Honky Tonk puts you in the center of the action and offers an up-close and personal viewing experience. Fans who have signed our online Guestbook will tell you there is no better way to watch The Killer perform than to see him live at Jerry Lee Lewis' Cafe & Honky Tonk!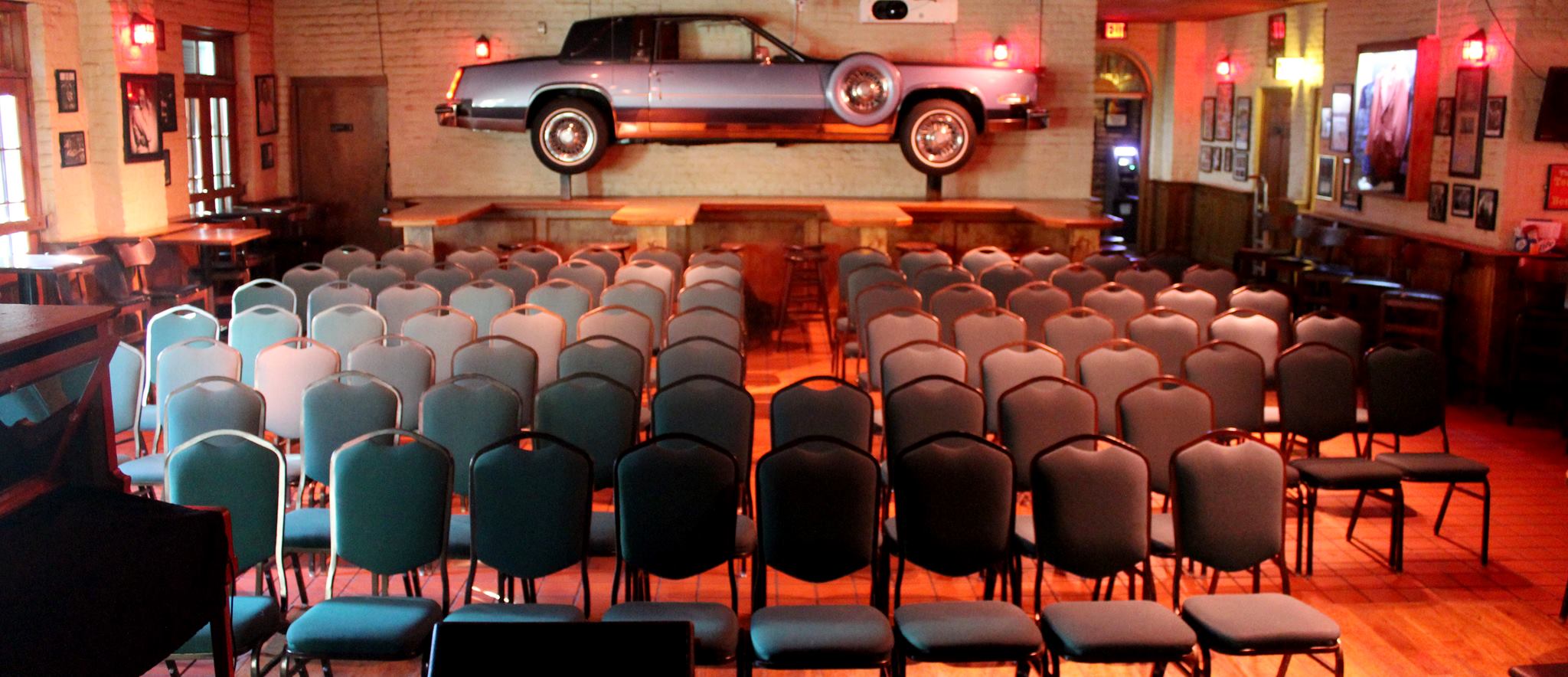 ---
Front Row Seats
Are you a life-long fan of Jerry Lee Lewis? Get a Front Row Seat and there will be only inches between you and The Killer himself! Take a selfie with Jerry Lee Lewis playing in the background and you can cross it off your bucket list!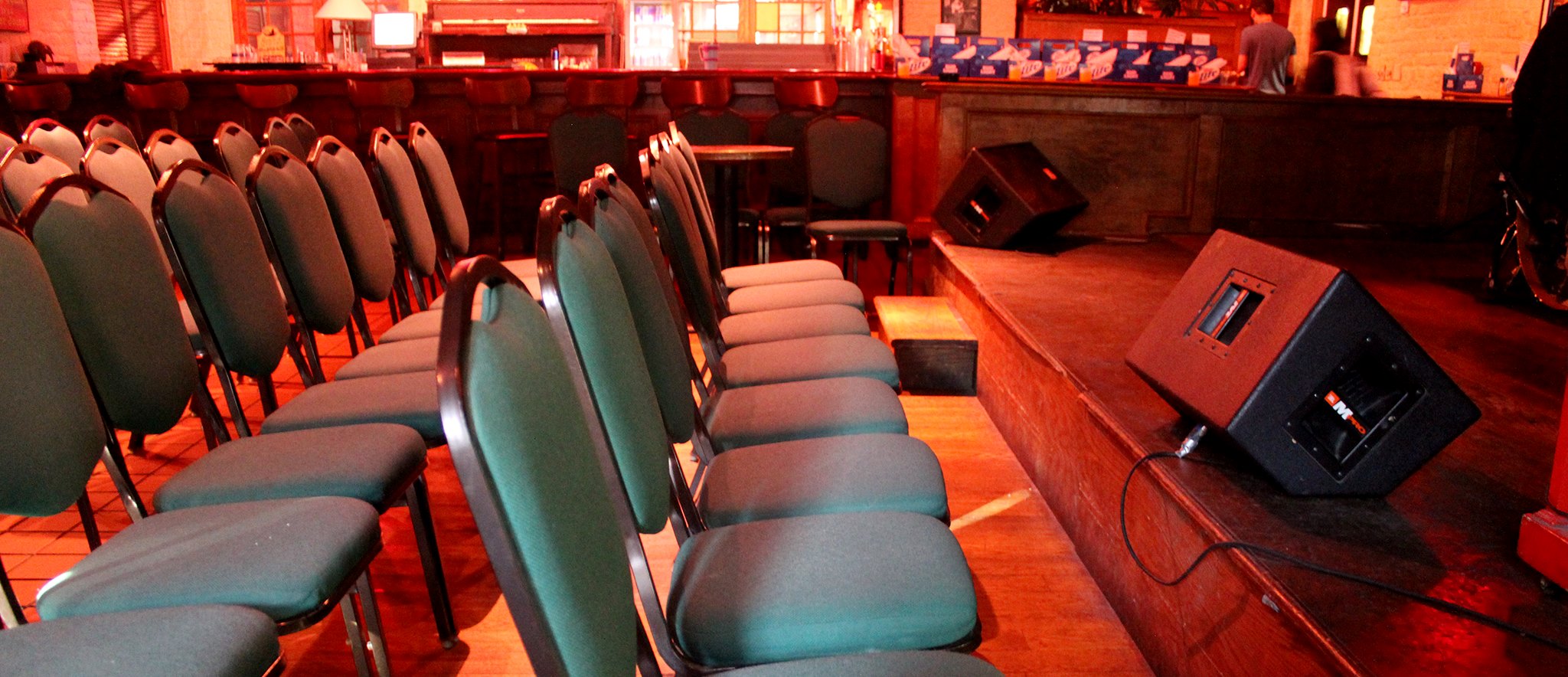 ---
Ticket Prices
ALL TICKET SALES FINAL
Presale: 8:00am CST Nov. 19 - 7:59am CST Nov. 20
Regular: 8:00am CST Nov. 20 - 11:59pm CST Dec. 30
Jerry Lee Lewis' Cafe & Honky Tonk - Detailed Seating Chart (PDF)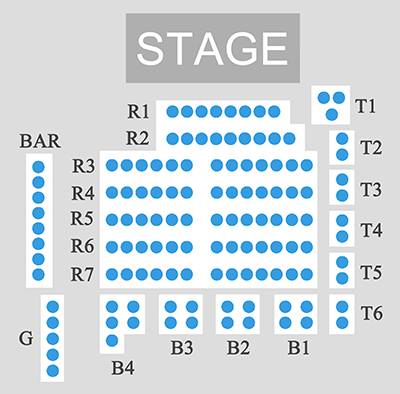 Front Row (R1) - 8 Seats - Presale $300 / Regular $325
Row 2 (R2) - 9 Seats - Presale $300 / Regular $325
Row 3 (R3) - 13 Seats - Presale $275 / Regular $300
Row 4 (R4) - 13 Seats - Presale $275 / Regular $300
Row 5 (R5) - 13 Seats - Presale $250 / Regular $275
Row 6 (R6) - 13 Seats - Presale $250 / Regular $275
Row 7 (R7) - 13 Seats - Presale $225 / Regular $250
Table 1 (T1) - 3 Seats - Presale $275 / Regular $300
Table 2 (T2) - 2 Seats - Presale $275 / Regular $300
Table 3 (T3) - 2 Seats - Presale $275 / Regular $300
Table 4 (T4) - 2 Seats - Presale $275 / Regular $300
Table 5 (T5) - 2 Seats - Presale $275 / Regular $300
Table 6 (T6) - 2 Seats - Presale $275 / Regular $300
Booth 1 (B1) - 4 Seats - Presale $275 / Regular $300
Booth 2 (B2) - 4 Seats - Presale $275 / Regular $300
Booth 3 (B3) - 4 Seats - Presale $275 / Regular $300
Booth 4 (B4) - 5 Seats - Presale $275 / Regular $300
Bar (BAR) - 8 Seats - Presale $275 / Regular $300
Gallery (G) - 5 Seats - Presale $150 / Regular $175
When
December 31st, 2018 5:00 PM to January 1st, 2019 1:00 AM
Location
310 Beale St




Memphis

,

TN

38103




United States
Check the box next to the tickets you would like to purchase
| | |
| --- | --- |
| Front Row (R1), Seat 8 | $325.00 |
| Row 2 (R2), Seat 9 | $325.00 |
| Row 3 (R3) Regular | |
| Row 3 (R3), Seat 11 | $300.00 |
| Row 3 (R3), Seat 12 | $300.00 |
| Row 3 (R3), Seat 13 | $300.00 |
| Row 4 (R4) Regular | |
| Row 4 (R4), Seat 1 | $300.00 |
| Row 4 (R4), Seat 2 | $300.00 |
| Row 4 (R4), Seat 9 | $300.00 |
| Row 4 (R4), Seat 10 | $300.00 |
| Row 4 (R4), Seat 11 | $300.00 |
| Row 4 (R4), Seat 12 | $300.00 |
| Row 4 (R4), Seat 13 | $300.00 |
| Row 5 (R5) Regular | |
| Row 5 (R5), Seat 9 | $275.00 |
| Row 5 (R5), Seat 10 | $275.00 |
| Row 5 (R5), Seat 11 | $275.00 |
| Row 5 (R5), Seat 12 | $275.00 |
| Row 5 (R5), Seat 13 | $275.00 |
| Row 6 (R6) Regular | |
| Row 6 (R6), Seat 1 | $275.00 |
| Row 6 (R6), Seat 2 | $275.00 |
| Row 6 (R6), Seat 3 | $275.00 |
| Row 6 (R6), Seat 4 | $275.00 |
| Row 6 (R6), Seat 5 | $275.00 |
| Row 6 (R6), Seat 8 | $275.00 |
| Row 6 (R6), Seat 9 | $275.00 |
| Row 6 (R6), Seat 10 | $275.00 |
| Row 6 (R6), Seat 11 | $275.00 |
| Row 6 (R6), Seat 12 | $275.00 |
| Row 6 (R6), Seat 13 | $275.00 |
| Row 7 (R7) Regular | |
| Row 7 (R7), Seat 4 | $250.00 |
| Row 7 (R7), Seat 5 | $250.00 |
| Row 7 (R7), Seat 6 | $250.00 |
| Row 7 (R7), Seat 7 | $250.00 |
| Row 7 (R7), Seat 8 | $250.00 |
| Row 7 (R7), Seat 9 | $250.00 |
| Row 7 (R7), Seat 10 | $250.00 |
| Row 7 (R7), Seat 11 | $250.00 |
| Row 7 (R7), Seat 12 | $250.00 |
| Row 7 (R7), Seat 13 | $250.00 |
| Table 1 (T1) Regular | |
| Table 1 (T1), Seat 1 | $300.00 |
| Table 1 (T1), Seat 2 | $300.00 |
| Table 1 (T1), Seat 3 | $300.00 |
| Table 6 (T6) Regular | |
| Table 6 (T6), Seat 1 | $300.00 |
| Table 6 (T6), Seat 2 | $300.00 |
| Booth 1 (B1) Regular | |
| Booth 1 (B1), Seat 1 | $300.00 |
| Booth 1 (B1), Seat 2 | $300.00 |
| Booth 1 (B1), Seat 3 | $300.00 |
| Booth 1 (B1), Seat 4 | $300.00 |
| Booth 2 (B2) Regular | |
| Booth 2 (B2), Seat 1 | $300.00 |
| Booth 2 (B2), Seat 2 | $300.00 |
| Booth 2 (B2), Seat 3 | $300.00 |
| Booth 2 (B2), Seat 4 | $300.00 |
| Booth 3 (B3) Regular | |
| Booth 3 (B3), Seat 1 | $300.00 |
| Booth 3 (B3), Seat 2 | $300.00 |
| Booth 3 (B3), Seat 3 | $300.00 |
| Booth 3 (B3), Seat 4 | $300.00 |
| Booth 4 (B4) Regular | |
| Booth 4 (B4), Seat 1 | $300.00 |
| Booth 4 (B4), Seat 2 | $300.00 |
| Booth 4 (B4), Seat 3 | $300.00 |
| Booth 4 (B4), Seat 4 | $300.00 |
| Booth 4 (B4), Seat 5 | $300.00 |
| Bar (BAR), Seat 8 | $300.00 |
| Gallery (G) Regular | |
| Gallery (G), Seat 2 | $175.00 |
| Gallery (G), Seat 3 | $175.00 |
| Gallery (G), Seat 4 | $175.00 |
| Gallery (G), Seat 5 | $175.00 |